Reviews of Tommy - Volume I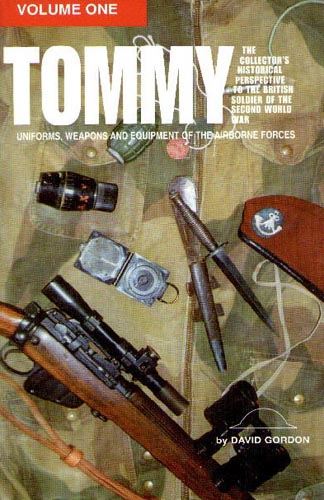 OUTSTANDING REFERENCE "TOMMY - THE COLLECTOR'S HISTORICAL PERSPECTIVE TO THE BRITISH SOLDIER OF THE SECOND WORLD WAR VOLUME 1 - UNIFORMS, WEAPONS AND EQUIPMENT OF THE AIRBORNE FORCES". DETAILS THE UNIFORMS, EQUIPMENT, INSIGNIA, WEAPONS, AND PERSONAL GEAR OF THE BRITISH AIRBORNE FORCES. INCLUDES BOTH PERIOD & COLOR PHOTOGRAPHS. SOFT COVER, EXCELLENT CONDITION, MEASURES 5 1/2 x 8 1/2 INCHES, 172 PAGES. A MUST HAVE FOR THE SERIOUS WORLD WAR TWO COLLECTOR AND HISTORIAN ALIKE!!!
BATTLEFIELD STORE - 3915 HIGHWAY 7 - MINNEAPOLIS, MN 55416 - PHONE: (612)920-3820
EMAIL: military@frontiernet.net
---
Military Modelling Magazine (United Kingdom)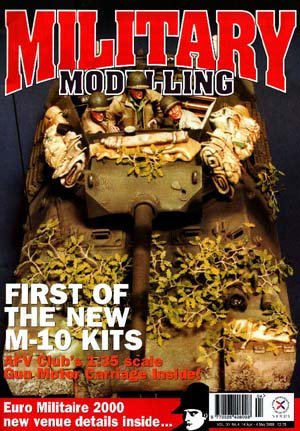 Volume 29, Issue Number 15, Page 22 (24 DEC 1999 - 20 JAN 2000)
Tommy, Vol. 1, Uniforms, Weapons and Equipment of the Airborne Forces, David Gordon. Pictorial Histories Publishing Co., Inc.,, Missoula, Montana, 59801, USA, ISBN 1-57510-042-8. Price £12.95.
Volume 1 Tommy is described as, "The Collector's Historical Perspective to the British Soldier of the Second World War". Profusely illustrated with black and white and colour photographs, the book covers everything 'British WWII Airborne' from a shoulder patch to a Jeep, from a glider to a folding bicycle, it's all here. I didn't know about the camouflaged tank suit issued to Airborne AFV crews - but it's in here. Some of the colour photos of uniform insignia are quite colourful and varied, excellent for anyone contemplating a model figure. Most of the pictures were taken specially for the book, although wartime photos are included and together they present a well-balanced mix.
If you have absolutely nothing on your bookshelf about WWII British airborne forces and need some information, look upon this book as the best you'll get, between two covers, for £12.95 plus £1.25 from The Enthusiasts Library, 55 Hewitt Road, London N8 OBS.
K.M.J.
---
Combat and Survival Magazine (United Kingdom)
Volume 11, Issue Number 1, Page 22 (APR 1999)
Tommy (Volume One) by David Gordon ISBN 1-57510-042-8
Written to help bridge the gap between novice and advanced collectors of British WWII uniforms, weapons and equipment, this 172 page paperback is a mine of information. Published by Pictorial Histories of Montana, it is the first of eight planed volumes, and deals purely with airborne forces. It is a companion to the SOLDAT (German) and CANUCK (Canadian) WWII militaria books, and is packed full of good quality photos on glossy paper and accurate descriptive text. Though I'm no expert, I reckon I should still be able to pick out major gaffs on this subject, but I could find none. Costs £12.95 plus £1.25 for UK p&p.
---

Tommy :

The Collector's Historical Perspective to the British Soldier of the Second World War : Uniforms, Weapons and Equipment of the Airborne Forces

bn.com Price:

$12.95 In-Stock: Ships 2-3 days
Format: Paperback, 184pp.
ISBN: 1575100428
Publisher: Pictorial Histories Publishing Company, Incorporated
Pub. Date: July 1998

ABOUT THE BOOK -

CUSTOMER REVIEWS





Rating - Don McAdams, California Collector and Researcher, September 28, 1999
Excellent value for the price and information
While some people get hung up on exact dates and what a manual might say, this book covers the equipment used by the British Airborne from the stand point of the individual soldier and how they actually did things during the war. Many rare items are pictured and most all of the photographs are outstanding. The only draw back is the setting of some of the photos since it is apparent they were not shot in Europe. This is a minor point though as it is the uniforms and weapons that are of interest, not the type of trees in the forest.
---
TOMMY: UNIFORMS, WEAPONS, AND EQUIPMENT OF THE AIRBORNE FORCES; The Collector's Historical Perspective to the British Soldier of the Second World War

A highly detailed and fully illustrated guide to uniforms, insignia, equipment, weapons, vehicles, and miscellaneous equipment of the British Tommy in World War II. 1998: 172 pages, softcover. (Pictorial Histories)