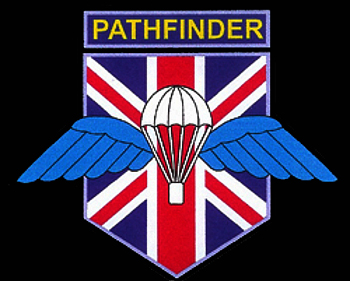 The Pathfinder Group
Click this link to see the current schedule of events

Normally uniforms worn for commemorative jumps will be those of the British WWII airborne soldier. Some jumps are open to any Allied WWII Airborne impression. Axis Military WWII uniforms are never permitted. If you are new to living history and think you may want to participate with the Pathfinder Group at future commemorative jumps, your best option is to invest in original or quality reproduction British uniforms and equipment as specified below.
Basic Components of a British WWII Airborne Uniform:
WWII Wool 1937 Pattern, 1940 Pattern or Paratroopers Pattern Battledress Trousers
WWII Wool 1937 Pattern or 1940 Pattern Battledress Blouse
WWII Dennison Pattern Smock
WWII Pattern Wool Maroon Beret
Black Leather Ammunition Boots or Modern Black Leather Corcoran Jump Boots
WWII 1937 Pattern Web Anklets (Gaiters)
WWII Paratrooper's Denim Sleeveless Oversmock
WWII Paratrooper's Jump Helmet with Scrimed Net and Web or Leather Chin Strap
WWII 1937 Pattern Basic Web Gear consisting of Web Belt, Water Bottle with Carrier, Pair of Braces and a Pair of Basic Pouches.