The Pathfinder Group
Pathfinder is a group of individuals interested in preserving military history and the art and style of static line military round chute jumping. This is achieved primarily though commemorative parachute exhibition jumps for the public at the site of historic battles such as Normandy and Arnhem. It is also achieved by the more aggressive members through the completion of various foreign military parachute jump courses.
Click here for a narrative that helps explain the jump concept

What does this mean to you?
If you are a reenactor, now is your chance to try the real thing and see what it was like.
If you are former military, it allows you to experience parachuting as it used to be.
If you are a thrill seeker, it provides you with a rush compared to no other.
The parent organization, Pathfinder (UK), is active in arranging military anniversary jumps where Pathfinder "stands in" for the veteran that can no longer participate in the jumps. The core directive is to promote the "Airborne Brotherhood" while extending the opportunity to become airborne qualified at a reasonable cost.
Former military service is not a requirement to participate with Pathfinder in one of the jump schools or with the demonstration team. All are welcome but we cater to the retired airborne soldier who wishes to continue jumping the way they were originally taught.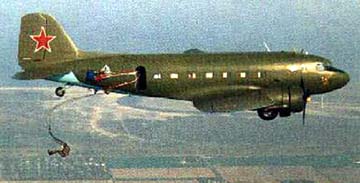 At various times during the year, Pathfinder conducts a jump school for potential candidates. Each course teaches and prepares you to do five stand-up static line round chute jumps. Upon completion of the course, you are awarded your own set of Dutch Military parachute wings and an invitation to join the Pathfinder Group.A Pathfinder membership is open to those with military service either current or military, this includes reservists and the National Guard.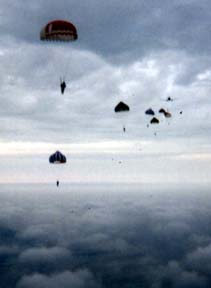 Once a member of the Pathfinder Group, you are encouraged (but not required) to participate in as many commemorative jumps and foreign parachute courses as you can handle.
Feel like joining or have questions?